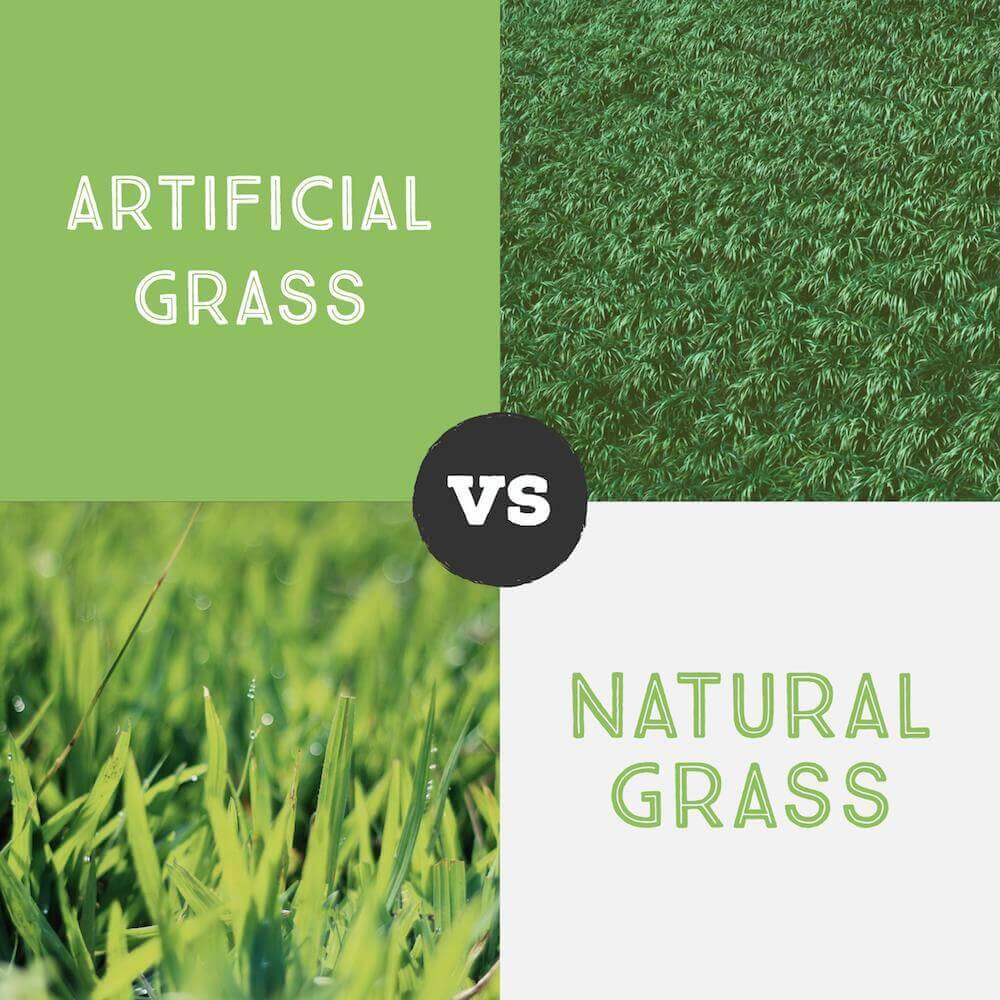 Although artificial and natural grass look similar, there are several differences in functionality that you should consider when you are creating your lawn. Artificial grass has a reputation for being eco-friendly and wallet-friendly due to a lack of maintenance and extra watering costs. Natural grass also has its charms and more often comes to mind when you think of stepping onto a luscious, green lawn. Here are some pros and cons to weigh when deciding what is best option for your lawn.
Artificial Grass Pros & Cons
Pro: Long term savings
After the artificial grass is installed, you eliminate the need for monthly landscaping maintenance, fertilizer, mowing, watering, and all equipment required for maintenance. Most importantly, you stop wasting your own time on lawn upkeep.
Pro: Long life expectancy
High-quality artificial grass has an unparalleled life expectancy. Hill Horticulture relies on EasyTurf for a natural look and feel. Although artificial grass can absorb more heat than natural grass during the warmer parts of the year, the look of the grass won't suffer the same yellow, brittle fate as heat parched natural grass. The blades will stay soft, supple, and attractive season in and season out.
Pro: Better for the environment
By eliminating the need to water your lawn in the San Antonio dry season and the need to use gas powered mowers to cut your grass weekly, you reduce the impact of your lawn on the environment. View our infographic for a full view of the artificial turf environmental benefits.
View Artificial Turf Infographic
Con: The initial cost
Installing artificial grass is a true investment. To receive the best results, most homeowners pay for the consultation, artificial grass, sod, and the installation. The price depends on how large of an area you want to replace with synthetic turf. Our San Antonio landscaping experts give a free consultation to anyone considering artificial turf. During the consultation, we walk around your home with you and come up with the best solution for your lawn. Solutions typically consist of a combination of artificial grass and other landscaping solutions such as xeriscapes, hardscapes, and flower beds.
Con: Absorbs more heat during warmer parts of the year
If you live in an area like Texas where summers are 90 degrees or more every day, then artificial grass can become very hot. Natural grass has water running through it which helps keep in moisture and reduce heat, while synthetic turf doesn't. To alleviate the heat of synthetic grass, we usually recommend spraying down the area with water once in awhile. Although you are still using water on your lawn during this time, the amount of water needed to cool down the lawn is much lower.
Natural Grass Pros & Cons
Pro: Looks great when properly maintained
Some homeowners are fond of the natural look of a well-kept lawn. Although the maintenance is higher, a natural lawn has an emotional factor to it. It also helps make your lawn look and feel homier. When it's done right, it helps enhance curb appeal and increases your property value.
Pro: Natural lawns help with air quality
If you live in a large city with a lot of pollution, you may want to keep your natural lawn to help improve the air quality around your home. The natural grass helps trap carbon dioxide, produce oxygen, and the soil helps breaks down pollutants in the air.
Con: Long term cost
As mentioned above in the artificial grass pros, the upkeep and cost of a natural lawn are both high. For natural lawns to keep their value, you must maintain it on a monthly basis. This is hard to do if you don't have the time, money, or have pets who are consistently playing on the lawn.
Because the grass is natural, the environment and weather profoundly affect the health of the grass. During the summer or winter grass may turn brown and die from the weather. If the grass is not well maintained, it can bring down the value of your home, receive an increase in pests, and produce fungus.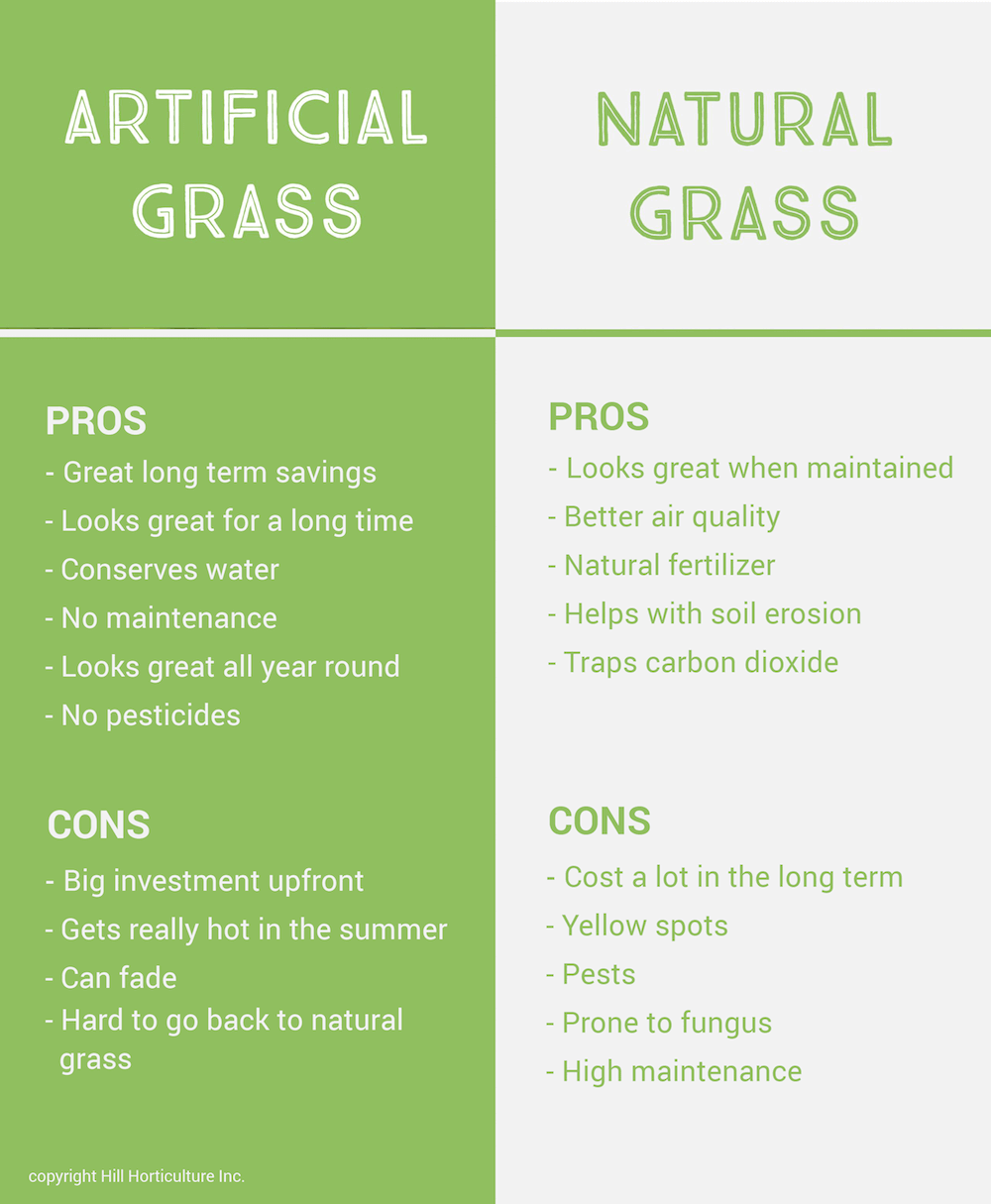 The choice of grass you decide on depends on your preferences, and what is most important to you in the long-term and short-term. We like to point out that it doesn't have to be an either or battle! Mix artificial grass and natural landscaping when it makes the most sense in your lawn.