San Antonio's EasyTurf & Real Turf Synthetic Grass Experts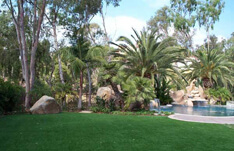 Hill Horticulture is San Antonio's exclusive authorized dealer of EasyTurf artificial grass. EasyTurf & Real Turf provide the industry leading synthetic grass for commercial and residential use, and is the best choice for those seeking a realistic and long-lasting landscape solution. FieldTurf is the recognized leader worldwide in synthetic sports field surfacing.
The popularity of artificial grass landscaping has escalated in San Antonio over the past few years due to our dry weather, water restrictions and the difficulty in maintaining a natural grass lawn. Imagine a beautiful, problem-free, green landscape for your home or office.
Why Choose EasyTurf & Real Turf Artificial Grass?
Most realistic turf available. EasyTurf & Real Turf's unique multi-color blades give subtle color variations to match the look of real grass. It also has the best soft feel compared to other artificial grass offered in San Antonio.
Unmatched Durability. EasyTurf & Real Turf have a 15-20 year life expectancy, the longest in the industry. It can withstand harsh weather, strong winds, and tough play from kids and pets.
Unmatched Drainage. With proprietary MaxxFlow technology, EasyTurf & Real Turf offer a totally permeable backing allowing for 100% drainage and providing a barrier for weeds.
Unparalleled Warranty. EasyTurf & Real Turf offer the longest, most comprehensive and solid warranty in the business – period.
Great for pets. Liquids drain right through, droppings can be picked up as they would be with regular grass and/or washed off with a hose, and dogs can't dig through it. Muddy paw tracks on your carpet will be a thing of the past!
The Synthetic Lawn That Stands Up To Real Life
Quality synthetic grass landscaping provides much more than a green lawn and a means of conserving water. Artificial turf landscaping will provide years of satisfaction if you make the right choices with the product and the installation company. With its long lifespan and unrivaled warranty, EasyTurf & Real Turf is a smart solution.
Installation by Trained Experts
EasyTurf artificial grass offers the finest synthetic turf products and our trained professional installers ensure the installation is done right, providing years of satisfaction. Trust the experts when considering synthetic grass landscaping – trust EasyTurf  & Real Turf from Hill Horticulture!

Visit Hill Horticulture's showroom to see why Real Turf & EasyTurf are the best choice for Artificial Turf!