Before
After
Testimonial
Just want to thank you and the staff for taking care of the problem with the base for the front yard. They did a great job! Please be sure to pass my thanks and appreciation onto all those involved.
You all have consistently provided excellent Customer Service and I will make sure that when folks drop by and ask questions about the "Easy Turf" that I mention your professionalism and service!
Thanks again and Take Care!

Fenstermacher
San Antonio, Tx
Before
After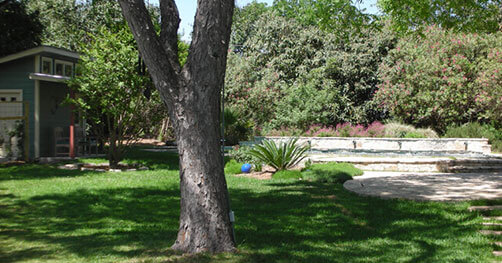 Testimonial
Dear Prospective Client of Hill – Moreno Horticulture:
When we renovated our home, our landscaping needed a major re-working to repair the construction damage and incorporate the new patios and front porch. We spoke to several companies and liked the fact that Hill had a landscape architect to help us create the outside design that we imagined. Chris came up with exciting ideas that dove-tailed nicely with what we wanted.
Hill – Moreno Horticulture provided us with great value and a quality job. They took a mess and made it functional and beautiful. They worked within our budget. We have had the need for some warranty work and they have responded quickly and professionally. Their service guys are friendly and helpful.
I would highly recommend them to anyone who is looking for a quality and fair contractor who will provide you with great service.
Sincerely,
Anne and Chuck Parrish
Budget
Under $100, 000 - two phases
Project
Landscape, Irrigation, lighting, colored concrete driveways, retaining walls, patio and decorative fencing

Parrish
Alamo, Heights, TX
Before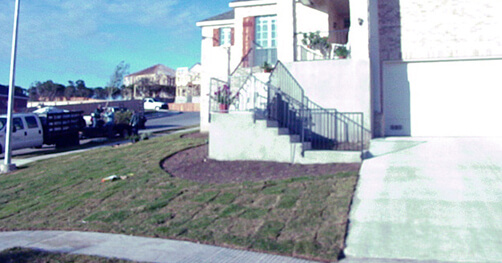 After
Testimonial
Dear Prospective Client of Hill Horticulture:
If you are like me, you are concerned about whom to choose to do the work at your home. Things such as quality, pricing, service, and honesty are very important to me. I have been very pleased with the landscape design and installation done by Hill Horticulture. John Hill is professional, courteous, and attentive to every detail on the work he has done for our home the last couple of years. All work has been done on time and in budget. His landscape materials are excellent quality and his workers are respectful. I have called on Hill for warranty work and they have responded quickly and professionally.
I would highly recommend Hill Horticulture as a landscape contractor to anyone who is looking for quality work and great service.
Respectfully,
Cindy Sisk
Project
Design and install full landscape package from bare dirt.

Mr. and Mrs. Sisk
San Antonio, TX
Before
After
Testimonial
Dear Prospective Client of Hill Horticulture:
We had tiered flower beds across the front and down the side of our sloped front yard. The beds were bordered with railroad ties that were rotting. We wanted to do something different and so we contacted Hill Horticulture, Inc.
I emailed them on a Sunday to tell them what I was looking for. Monday morning I received a reply and we scheduled a meeting for that Wednesday to review our situation. Friday of that same week we had a bid for the services.
We then decided to add a sidewalk from the street to our front door. Just as quickly, their landscape architect replied and met us at the house to add that to our plans. Within a few days we had an architect's rendering of what the proposed flower beds and sidewalk would look like. We would replace the railroad ties with mortared rock walls and have a flagstone sidewalk to the door.
They started the job when they said they would, the workers showed up every day, and it was completed by their projected completion date. John Hill was always very responsive and quick to address any questions I had. I expected to come home from work and look at the progress and see the things I didn't like and have to call the next morning. But I think I didn't even talk to them the entire first week because every day that I came home I was absolutely pleased with how professional the work was being done and at the progress being made. Every day the yard was cleaned up and the driveway and sidewalks swept.
It is very rare to find good, responsive customer service and excellent quality work these days. We found it with Hill Horticulture, Inc. It's been about two and a half months and we still have people who drive by and stop to tell us how nice our landscape looks. The plants they planted and the grass they sodded are all growing beautifully.
We would recommend Hill Horticulture, Inc to anyone looking for a solution to their landscape needs or just looking for a new look. The changes we made gave us a new home.
Respectfully,
Gayle L. Havel, CPA

Gayle L. Havel, CPA
Texas
Before
After
Testimonial
Dear Prospective Client of Hill – Moreno Horticulture:
Like many homeowners, we are very careful about who we chose to do the work at our home. Quality workmanship, fair pricing, and continued service after the job is complete are very important to us.
Recently, we selected Hill Horticulture to perform landscape work at our home, and we are very happy with our selection. The team at Hill Horticulture took the time to understand our vision for the yard, created a plan, and then worked with us within the parameters of our budget. In the end, we received quality landscaping at a fair price and now have a yard we are very proud to share with friends and family. Moreover, after completion of the project, we had a few small warranty items that had to be taken care of, and each item was addressed promptly and professionally.
We highly recommend Hill Horticulture to anyone who is looking for help with their landscape needs and wants to work with a professional team that provides quality work and first-rate service—all at a fair price.
Sincerely,
Tyler and Stephanie Mercer

Mercer
Texas